Dorothy The Dinosaur is the name of two Dorothy The Dinosaur solo albums. The first Dorothy solo release was titled Dorothy The Dinosaur in Australia and the first Dorothy solo release in the US was titled Dorothy The Dinosaur (which is Dorothy's Memory Book in Australia). The Australian release was released in 2007 and the American release was released in 2008.
Australian Cover:
US Cover: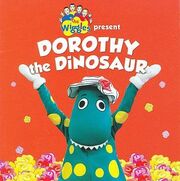 Australian Tracklisting
Edit
Intro
I'm Dorothy The Dinosaur
Intro
I Look In The Mirror
Brown Dog In The Ring
Swinging On A Swing
Intro
Come On Let's Jump
Nya Nya Nya
Intro
C'est Wags, C'est Bon
Intro
Lettuce Sing (Fresh Fruit And Vegies)
Intro
Teddy Bear Lullaby
Intro
Marie's Wedding
Sing With Me
Intro
Lechoo Yeladim
Intro
Picking Flowers
Fergus' Jig
Seashell Barcarolle
My Name Is Dorothy (Come Dance With Me)
Intro
Dance A Cachuca
Butterflies Flit
Balla Balla Bambna
Intro
I Am A Dancer
Intro
Aspri Mera Ke Yia Mas
Bucket Of Dew / Paddy Condon From Cobar
Intro
I Love It When It Rains
Olive Oil
Poesje Mauw
The Dreaming Song
Goodbye!
US Tracklisting
Edit
Say Aah At The Doctors
Intro
Ballerina, Ballerina
Intro
I Love It When It Rains
Intro
Drinking Rosy Tea With Dorothy
Intro
I Look In The Mirror
Intro
Lettuce Sing (Fresh Fruit And Vegies)
Intro
Balla Balla Bambina
Intro
Ngalmam Djangu Godku Yumarrku (We Are All In God's Family)
Intro
I'm The Postman
Intro
Dance A Cachuca
Intro
Open Wide At The Dentist
Intro
Vegetable Soup
I Am A Dancer
The Dancing Flowers
Let's Have A Party
Intro
J'suis Dorothy The Dinosaur (French Version)